While at the top of the Leaning Tower of Pisa in Italy with the Hub, I thought two thoughts:
Random Thought #1.
Where did I put away my 4th year high school Physics book? Paul Hewitt was the reason why Physics was my favourite science subject then. I remember reading up to Einstein's theory of relativity, past the required reading list, just because I was so caught up with Mr. Hewitt's writing + his Hewitt Drew-It cartoons. (Ah, the nerdy days of yore.) I hoped my mom hadn't given the book away. Random connection to Pisa: I vaguely recalled one of his cartoons showing Galileo throwing balls from the tower to demonstrate Newton's Laws of Motion.
*
Random Thought #2.
Why is the Leaning Tower of Pisa so squeaky-clean white? Considering its age, I expected it to be a little dirtier. Was there perhaps some mould-repelling characteristic of Italian marble which I didn't know about?
A Google search that night revealed that the tower's fresh-as-nearly-nine-centuries-old look was the result of eight years of careful restoration, finished in 2010.
Do not be deceived into thinking the Leaning Tower is an easy climb because it appears short. The lean itself threw me off. I felt like I was falling when rounding those corners, as if navigating a marble fun-house.
However of all the buildings at the square, my favorite was the cemetery, or the Camposanto.
It wasn't as popular as the Duomo or the other buildings so there was hardly anyone about. There's something peaceful about the early morning light, the scuffed marble on the floor, the stone faces that had long lost their noses, the empty sarcophagi.
Of course I also did my touristy duty and had a token "Look Ma, I'm holding up the Leaning Tower" shot that kind of looked like this: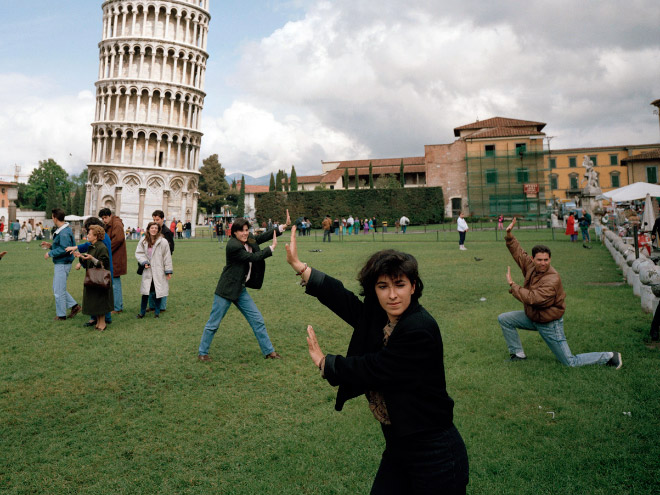 I also tried to imagine what Mr. Chinese Factory Worker was thinking (because really, all the souvenirs I've bought here in Europe have a 'Made in China' sticker) when he was making these leaning shot glasses.
Think critically dear readers,